Did you know that seven out of 10 visitors who abandon your site never return? That means if you would not take measures to connect with your abandoning visitors, you would waste your marketing budget and efforts.
Main concern is how to convince your visitors to take the plunge on your website, in a world of clicks, taps, and digital distractions, we only have a few seconds to make a big impression.
There are so many elements which can help to make your visitors turn into subscribers/ customers and one of them is 'landing page'.
A landing page can be any page that someone lands on after clicking on an online marketing call-to-action, it is a distinct page on your website that's built for one single objective. It is entirely different from 'website', 'homepage', 'about us page', 'contact us page'. Because homepage serves many purpose like introduce your visitors to who you are, show examples of your product, play a video of customer testimonials and so on but landing page serves sole objective i.e. to convert your visitors into customers.
Let's take a look on some tips which can help to increase landing page conversion rate.
1. Appealing and irresistible headline Keep headline/subject line short, simple and attractive. Let your visitor know immediately what you are trying to convey them. Here are some example of such headline.
101 Tips for Blogging

Say Hello to New You

Free Service Upgrade-get more for less!

Get this NOW before it's gone…

A great headline immediately attract visitors to open and click the action mentioned.
2. Don't forget the subheader It works as a supporter of headline. It doesn't leave visitors into vague, it tells visitors more about what you are offering. Here are the four headlines I shared above, with the addition of appropriate subheads:
101 Tips for Blogging

Facing trouble in writing blog, here are tips to help you out.
Say Hello to New You

Come to us and get a makeover at reasonable cost.
Free Service Upgrade-get more for less!

Get registered and avail extra service without paying any extra penny.
Get

this NOW before it's gone…

Limited offer to get up to 70% off on selected merchandise.
3. Add Images to convey message According to research, the brain processes images almost 60,000x faster than text, that's why accompanying text with image is a requirement for most of the landing pages. Relevant good quality image attracts visitors more than a text.
4. Answer to all the anticipated questions First of all landing page should not only answer what to purchase but it should also answer why to purchase your product/ service. Then marketers try to answer all the questions or all the possible doubts which might be raised in customer's mind.
5. Highlight call to action All the element of your landing page is up to mark but if customer find it difficult to identify where to click next, all your hard work would go into vain. Your call-to-action needs to stand out throughout the page. You can use contrast color to highlight call to action button, in place of boring words you can use words/ phrase with personalized touch.
6. Testing It's important to test the things that can have a big impact on visitors. Testing is the best way to know what's working, and what needs to be fixed. Test everything from headlines to images to layouts and more. PlugTalent.com provide an easy way to set up and analyze test results.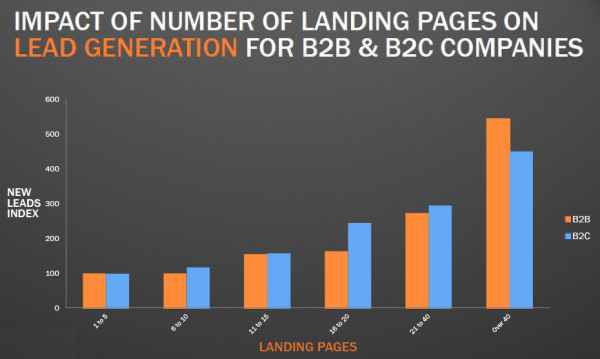 Research has shown that companies using 40 or more landing pages generate 120% more leads than those using less than 5. The interpretation of that data is simple: If you want more conversions, you need more landing pages.
If you are looking for any help to handle your Marketing Automation operations, visit our website PlugTalent.com.